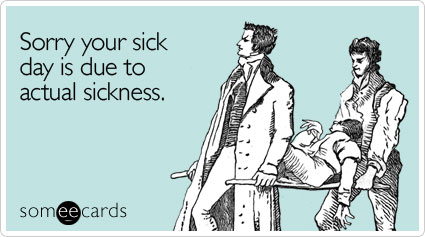 I hate taking sick days. I don't know why, I just do. I never feel bad about taking vacation time, but for some reason I feel guilty about taking a sick day. When I'm sick, I usually just push through, go to work, feel miserable, and regret not staying home. However, yesterday's wildfire in the back of my throat has turned into some sort of full fledged cold/flu thing. I could barely function yesterday, so I called in sick this morning. I'm staying home, even though my boss thinks it's just "early morning sinus pressure that will get better as soon as I get to work." My lack of sinus pressure and the all over body aches and slight fever beg to differ. But whatever.
I wasn't going to blog about that, but then I saw this gem on twitter later this morning and couldn't help myself.
Um, no kidding. I'm going to listen to my body when I know it needs to rest and heal. And I'm not going to feel guilty about it.
But it's a perfect day for a sick day. It's raining, my kitty is sleeping next to me, and I just got to eat bacon.
Now it's time to go visit my Keurig and Netflix.
*sneeze*