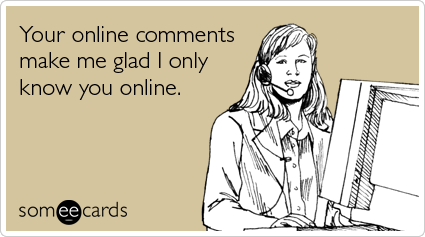 I learned something in the last 48 hours:
Online classes
suck.
Especially 6 week long, accelerated online classes.
Tuesday was the first day of the first online class I have to get out of the way by February. It's Secondary Teaching Methods. My teacher friends gave me an idea of what to expect, so I wasn't that worried. I logged on early Tuesday morning to check out the situation.
Look at me, getting such a head start! It's only the first day and I'm ready to knock out some assignments
, I thought.
I was greeted with chaos. Chaos! There were a handful of people who had already completed all week 1 assignments and submitted them, answered discussion questions, and so forth. I felt my blood pressure slowly rise as I scanned the syllabus and all the discussion questions. One thing immediately became clear:
I am the only one without any teaching experience.
(I'm taking these online classes through a different school than I'll be getting my Masters from. No one else in the Masters program will have experience either.) I won't even talk about the part that I read the assignments to myself and James several times and still had no idea what I was supposed to do. Still kind of have no clue.
So while this class is supposed to be for future teachers, the instructor is gearing it towards current teachers and asking things like "which one of your students does this challenge apply to?" and "how do you handle this in your classroom?" and crap like that. And yes, I emailed the instructor with my no experience sob story. Her response?
"I think you'll be fine."
Ok! Thank you for clearing up all confusion for me. Excellent.
But really? She's the least of my worries. I know I'll figure out the assignments one way or another. I always do. Let's discuss my classmates. There is one lady who had all week one assignments submitted early the 1st day. That, in and of itself, is enough to give me anxiety (and it did). The syllabus says to form groups and collaborate on assignment. She commented on the next three people's threads begging them to join her group. They did. She then posted her assignment to get their feedback on. Mind you, this is still Tuesday morning and it's not due till
Monday.
When she hadn't heard back from them in an hour or so, she commented multiple times saying "Please respond! I thought you were in my group! Do I need to find someone else? I'm getting very anxious and nervous right now. I need to get this assignment finished now!"
And keep in mind, no one else from the class had even posted anything yet. She was harassing these poor people. Someone else finally posted later and she begged him to join her group since her members weren't immediately responding. She's the crazy lady. Her group members responded by the end of the day, kindly explaining they have full times jobs and cannot be online 24/7. Next time I read their threads, I'm making popcorn.
And then there's the lady who introduced herself by saying "I started painting rocks and selling them when I was 4. It changed people's lives, so now I'm an art therapist."
And I thought English majors were weird.
So what I'm trying to say is that it's going to be an interesting 6 weeks.
Also, how do I always manage to get myself in these situations?